Bell System with Audio and GPS Facility
This Church Bell System is astonishing as it is featured with GPS and Audio facility. Time gets updated naturally in this system with the help of GPS receiver.Even it has the ability to play MP3 file and WAV at an interval of half an hour or an hour. The file loaded in the system of this speaking bell comprises of Slogan in any language, Chime or current hour correspondent. This model of speaking bell onlyenables pre amplifier output which has needs the connection to Horn or Speakers externally. Then the speaking bell switches ON the external amplifier and gets OFF automatically after being played the file.

Speaking bell is like a time device to be hung in the colleges and schools. By displaying the auto-updated time it rings on time with the help of Keypad or GPS receiver. Then relay of switching ON and OFF is manually set by its user.Accordingly, it gets ON and waits for the right time as per manually set to get switched OFF.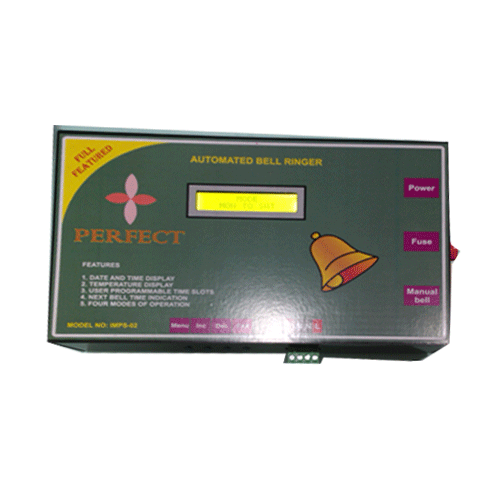 Temple/Church Bell-Tamil Language
Church bell system is an Audio device. It shows the time and update automatically by GPS Receiver. This device plays the WAV and MP3 file at every one Hour/Half Hour once. The file may include Hourly Bell corresponding to current hour, Chime and any Slogan in any languages.
his device gives pre amplifier output only, afterwards external power amplifier has to be connected to sound the speakers/Horn. This device switch ON the external amplifier when it is required and switch OFF once the audio file is played.
Specification
Time display in HH:MM:SS format
Time is set by GPS Receiver
Manual Test Switch to check the Audio
Supports SD card/Pen Drive
It has 230V AC Power Output for External Amplifier
Auto ON/OFF control of external amplifier to save the power consumption.
Case: Powder Coated MS Box
Power Supply:100 to 270V AC
Installation: Wall mounting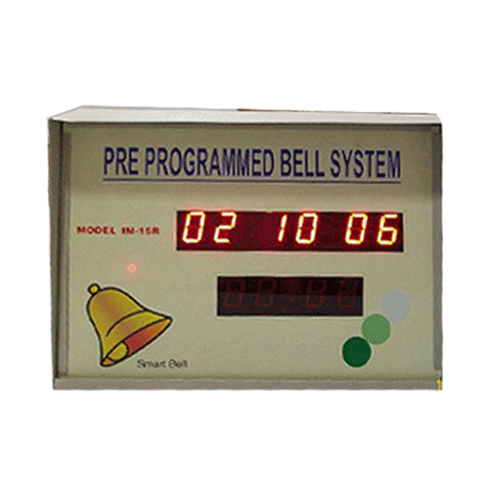 School Bell
School bell system is a time device to ring the Hang bell in Schools and Colleges. It shows the time and update automatically by GPS Receiver/Keypad. This device switch ON/OFF the relay based on the time schedule set by the user. It switches ON the bell and waits for desired time based on need which is set by user and OFF. A school bell system is an important part of school campus, and both the students and staff require it for a proper schedule throughout the school time. With the expansion of school size, there are more common areas and buildings that get added. So, a single bell unit can't notify each area with proper audibility.
  So, manufacturers has brought School bell systems in market those are run by GPS technology and micro controller that make sure the system time is accurate. No matter what's the size of the school, there are certain features you will get with the school bell systems. For example, there will be different tones for bell, alert, lock down, evacuation, PA system. Time synchronization, modular design as well as cable-free installation make such a system apt for school management.A range of indoor and outdoor school bells are found in market. These products are easy to install and used to highlight the start of the class, break times, end of the day etc. Sometimes these clock systems are complemented with master clock systems, which can be synchronised with class change system.

Traditionally, a school bell system required a human operator to control the bell system for every class. With such automatic school bell system, you can play the bells with pre-set times. There will be no requirement of any standalone device like PC or dedicated hardware, no manual intervention, needs to get programmed only once and you can store bell timings for the entire week.
Specification
Time display in HH:MM:SS format
Date display in DD/MM/YY format
Time is set by GPS Receiver/Keypad
Manual Test Switch to check the Hang Bell
It has 230V AC Power Output for External Hang Bell
It has Normal Mode/ Exam Mode selection
It has Next Bell Indication
Case: Powder Coated MS Box
Power Supply:100 to 270V AC
Installation: Wall mounting