Forex Display Boards with WIFI facility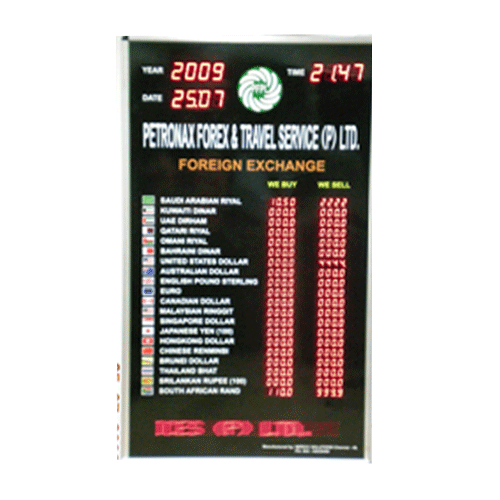 In Currency Exchange Centers you can see the maximum utilization of the Forex Display Board. While the countries are spotted with Currency Exchange Centers all over only 10% inquiries are done in the counter and rest of the queries is just left over. Actually it is considered as wastage of man power, discussion and time. It is the space where Forex Display Board enters and takes over the responsibility. After deploying this display in the centers the businesses are greatly influenced and increased in numbers. Interestingly Forex Display Board has the capability to show and inform the selling and buying price of Traveler Cheque and Currency of every subcontinent.
By using the Forex Display Board, now 1 counter can do the tasks of 4 counters at a time resulting in the sustainability of the entire business. In such case, there is a high chance to notice declining rate in the accommodation, space of the counters and employees' numbers as well.
Specification
Display shows Buy and Sell Currency values
Display additionally can show Traveler Cheque Buy/Sell
No of Country in Single Display: Multiple of 5 Country
Display Digit Size: 1" Seven Segment
Color: Red, Green, etc
Data update through PC/Remote/Mobile WI-FI
Case: Black powder coated Metal/Aluminum/SS
Installation: Wall mounting/Stand fixing
Power Supply:100 to 270V AC